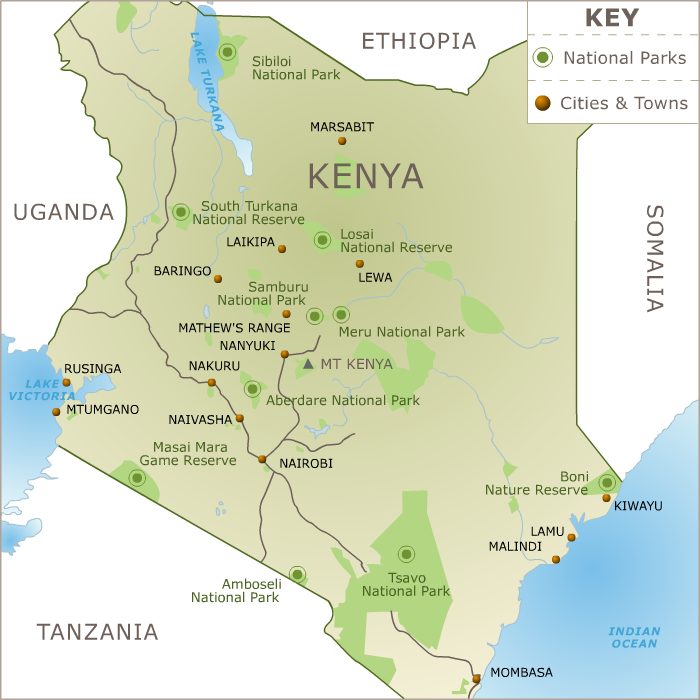 Premier Parks & Reserves not to be Missed
Masai National Reserve, its famous for hosting annual wildebeest migration referred to as the 7th wonder of the world as well as home to the Big Five in high dense.
Amboseli National Park is prominent for hosting huge heard of Elephants along with a clear view of Mt. Kilimanjaro.
Lake Nakuru National Park is eminent for huge varieties of birds especially millions of pink flamingos and endangered Rothschild's giraffes.
Olpajeta Conservancy is celebrated for hosting the only two remaining endangered northern white Rhinos in the world. In addition, it houses Sweetwater's Chimpanzee Sanctuary for orphaned, abandoned, and rescued chimpanzees
Samburu National Reserve is renowned for housing rare northern specialist species in abundance Also known as Samburu Special as well as endangered Pancake tortoise is found in the Reserve.
Last but not least is Nairobi National Park, is famed for being the only National park within a capital city in the world. The park accommodates all the Big Five except Elephant.
Quick Facts
Kenya
Capital City
Nairobi
Population
44 million
Area
580,370 sq kms
Highest Point
Mt Kenya – 5,199m
Main Language
English, Swahili
Currency
Kenya Shilling (KES)
General Information
Kenya – the name is almost synonymous with the word "safari". The country has several National Parks and Game Reserves. Kenya National Parks & Game Reserves are renowned for their uniqueness.
Obviously no other place on the planet conjures such a spirit of adventure and romance. undoubtedly, for first-time visitors, the sheer diversity of things to do is dazzling. Wildlife, of course, is top on the list. Ancient tribes such as the Maasai, Kikuyu, and Samburu retain their traditional customs, living in relative harmony with the natural world.
Amazing Memories Safaris organizes the best Kenya Safari Packages, using the best safari routes for maximum game viewing, Indeed we are the best partner in this, We will Ensure you will enjoy uniqueness of Kenya National Parks and Game Reserves.